Speare Seeds has high standards and a commitment to the seed industry to deliver superior quality products and to find the best seed product for each customer. We select seed from suppliers that can deliver the latest in research and development. We strive to have our products out-perform and out-last all other brands. Our products have been designed exclusively for the sports turf industry to provide turf that is tough, traffic resistant, drought tolerant and durable.
Speare Seeds' primary importance is selling a great product to you. But we are also very involved in supporting the industry where we can. We are a contributing member of the Sports Turf Association (STA), Ontario Golf Course Superintendent Association (OGSA), National Sod Growers Assocation (NSGA) and the Landscape Congress.
Our new Turf Genius® Self Repairing TF and Turf Genius® Self Repairing PR products are the most advanced self-repairing / spreading blends on the market. Our mixtures can be used for not only sports fields, but in your own back yard as well. With Speare Seeds you won't be disappointed.
Turf Genius® Self Repairing Mixtures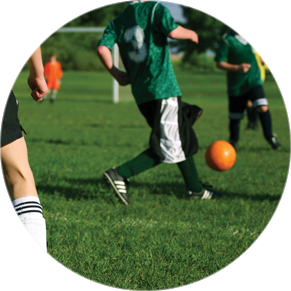 Turf Genius® Self Repairing TF Mixture

Rhizomatous Tall Fescue is a superior tall fescue developed by Barenbrug. It contains rhizome roots which fill in bare spots (repairs itself). This mixture promotes deep-rooting plants with great drought tolerance. Speare Seeds has taken a top self-repairing variety specifically focused on improved performance in colder climates. Our variety is well known and valued for providing durable attractive turf, even when conditions are less than ideal. Our mixture continues that tradition with improved cold weather performance, darker green colour, finer texture, increased disease resistance, and even better self-repairing ability.

Turf Genius® Self Repairing PR Mixture

Regenerating Perennial Ryegrass is a creeping perennial ryegrass that is more resilient and weather tolerant than traditional perennial ryegrass. Speare Seeds regenerating ability is what separates itself from traditional mixtures. We have chosen a variety designed for the Canadian colder climate and one that contains pseudo-stolons for a regenerating, self-repairing and revolutionary mixture. This mixture will provide grass with deep green colour. There is a high amount of endophytes in the mixture that will increase disease and insect resistance.
Sports Field Mixtures
Ingredients

Turf Genius® Sports Field Overseeding Mixture

Using regenerating perennial ryegrass, rhizome and quick germinating bluegrasses this mixture is full of benefits for overseeding with quick results.

50% Turf Genius® Self Repairing PR Mixture
25% Brooklawn Kentucky Bluegrass
25% Jump Start Kentucky Bluegrass

Turf Genius® Sports Blue Mixture

High-end Kentucky Bluegrass mixture to build a better root structure for better wear tolerance and to deliver superior colour and disease resistance. Each bluegrass brings unique and beneficial value to your turf grass.

25% Jump Start Kentucky Bluegrass
25% Brooklawn Kentucky Bluegrass
30% Bonaire Kentucky Bluegrass
20% IQ Perennial Ryegrass

Turf Genius® Overseeding Mixture

An all certified perennial ryegrass seed blend for repairing bare spots and thickening existing areas. Overseeding every spring and fall will maintain a sod-like lawn.

34% IQ Perennial Ryegrass
33% Plateau Perennial Ryegrass
33% Affirmed Perennial Ryegrass

Premium Mixture

Blend of turf species for home lawns and professional landscapes for a wide range of conditions.

40% Kentucky Bluegrass
40% Creeping Red Fescue
20% IQ Perennial Ryegrass

Turf Genius® Passive Park Blend

A 3-way blend of different turf species to deliver excellent drought tolerance, dark green colour and quick establishment to your turf grass.

25% Manhattan 5 GLR Perennial Ryegrass
25% IQ Perennial Ryegrass
25% Bridgeport II Chewings Fescue
25% Aberdeen Creeping Red Fescue



Turf Genius® Aqua Wise® Sports Field Blend

This mixture uses all varieties approved by the Turfgrass Water Conservation Alliance (TWCA). This mixture is designed for sports fields featuring the benefit of water conservation. Products that become TWCA qualified will ave successfully met a stringent set of criteria to assure you of true water conservation benefits.

70% Manhattan 5 GLR Perennial Ryegrass
30% Midnight Kentucky Bluegrass
| | |
| --- | --- |
| | Endophyte Enhanced Mixture - Greatly reduce the risk of insect infestation with one of these endophyte enhanced mixtures. Endophytes are a natural and beneficial component to a lawn seed mixture. After the grass seeds germinate, endophytes create a natural compound within the plant which insects prefer not to feed on. |
| | Turfgrass Water Conservation Alliance (TWCA) - These qualified products have successfully met a stringent set of criteria to provide true water conservation benefits. |