Ingredients
Seeding Rate




Turf Genius® 9-1-1 Overseeding Blend

Uses the latest technology and is specifically designed for late summer overseeding to turn your
brown upside down!

Self-repairing technology fills in bare spots naturally
Endophyte-enhanced
100% Certified Seed
Quick to establish
Drought tolerant

Listen to our commercial!


15% Cert. Annual Ryegrass
50% Cert. Perennial Ryegrass
15% Cert. SR Perennial Ryegrass
10% Cert. Creeping Red Fescue
10% Cert. Kentucky Bluegrass

7 lbs. per
1,000 sq. ft









Deluxe Sun & Shade Mixture

A deluxe blend providing a superior lawn – can be used in all sun or moderate shade.
TWCA Mixture - proven to provide a clear benefit in water conservation.

Self-repairing technology fills in bare spots naturally
Water Sense™ coated seed improves speed of establishment and saves water
100% Certified and 99.9% weed-free seed

Blue

coated seed for even distribution while planting
Endophyte-enhanced

25% Cert. Kentucky Bluegrass
45% Cert. Chewings Fescue
30% Cert. SR Perennial Ryegrass

5 lbs. per
1,000 sq. ft.

Dry Times Lawn Mixture

A fescue based mixture for use in low maintenance areas providing excellent drought tolerance.

Requires less watering
Does well in dry, sandy soils
Performs well in sun and shaded areas

55% Cert. Tall Fescue
10% Chewings Fescue
20% Creeping Red Fescue
10% Cert. Perennial Ryegrass
5% Annual Ryegrass

8 lbs. per
1,000 sq. ft




Landscape Special Mixture

A mixture designed for quick establishment and quality turf at an affordable price.

Fast establishment and coverage
Self-repairing technology fills in bare spots naturally
Good wear tolerance
Medium green colour

30% Kentucky Bluegrass
30% Creeping Red Fescue
20% SR Perennial Ryegrass
20% Cert. Annual Ryegrass

7 lbs. per
1,000 sq. ft

Maple Green Mixture

A multi-purpose mixture with annual ryegrass for quick establishment.

Varieties suited for the Northern climate
Tolerates full sun or moderate shade
Annual ryegrass provides protection from excessive heat and helps to hold water in the soil

40% Kentucky Bluegrass
40% Creeping Red Fescue
10% Annual Ryegrass
10% Cert. Annual Ryegrass

5 lbs. per
1,000 sq. ft

MTO Mixture

A mixture developed by the Ministry of Transportation for land reclamation along roadsides.

Requires little to no maintenance


52% Creeping Red Fescue
10% Kentucky Bluegrass
35% Perennial Ryegrass
3% White Clover

4-6 lbs. per
1,000 sq. ft

Deluxe Overseeding Mixture

A quick emerging, perennial ryegrass blend for repairing bare spots and thickening existing lawns.

Self-repairing technology fills in bare spots naturally
Water Sense™ coated seed improves speed of establishment and saves water
Very fast establishment
100% Certified and 99.9% weed-free seed

Yellow

coated seed for even distribution while planting
Endophyte-enhanced

50% Cert. Perennial Ryegrass
50% Cert. SR Perennial Ryegrass

4 lbs. per
1,000 sq. ft

Playground Mixture

Low maintenance ground cover ideal for large properties, playgrounds and cottages.

A mixture of 7 different species suited for the Northern climate
Distinct traits for low maintenance grass
Grows well in sun and moderate shade

28% Creeping Red Fescue
10% Timothy
5% Kentucky Bluegrass
2% White Clover
20% Tall Fescue
25% Annual Ryegrass
10% Turf-type Perennial Ryegrass

5 lbs. per
1,000 sq. ft

Premium Mixture

Tried and proven – A Speare Seeds mixture for over 40 years. An excellent, economical option for new lawns or overseeding.

Excellent turf quality
Endophyte-enhanced
Self-repairing technology fills in bare spots naturally

40% Kentucky Bluegrass
40% Creeping Red Fescue
20% SR Perennial Ryegrass

5 lbs. per
1,000 sq. ft

Select Mixture

A traditional and all-purpose turf mixture with perennial ryegrass for long-lasting results.

Use in full sun or moderate shade

40% Kentucky Bluegrass
40% Creeping Red Fescue
20% Turf-type Perennial Ryegrass

5 lbs. per
1,000 sq. ft

Ingredients
Seeding Rate

Shade Mixture

Specially designed for shaded areas or areas that lack morning sunlight.

Combination of high quality turfgrass species
Mixture performs well in shade as well as sun
Contains the most shade tolerant species known to turf

20% Kentucky Bluegrass
45% Creeping Red Fescue
10% Chewings Fescue
10% Turf-type Perennial Ryegrass
10% Annual Ryegrass
5% Poa Trivialis

5 lbs. per
1,000 sq. ft

Sun & Shade Mixture

A true Sun & Shade mixture built for most soil types.

Use in full sun or moderate shade

20% Kentucky Bluegrass
35% Creeping Red Fescue
5% Poa Trivialis
5% Chewings Fescue
35% Turf-type Perennial Ryegrass

5 lbs. per
1,000 sq. ft

Super Grow Mixture

A high quality mixture suitable for all lawns.

Self-repairing technology fills in bare spots naturally
A percentage of Kentucky Bluegrass is coated with Water Sense™ technology for faster germination and establishment
Save water and improve the rate of establishment with Water Sense™ technology

Green

coated seed for even distribution while planting
Endophyte-enhanced

30% Kentucky Bluegrass
40% Creeping Red Fescue
30% Cert. SR Perennial Ryegrass

5 lbs. per
1,000 sq. ft

Survivor Self-Repairing Mixture

A quick establishing, completely regenerating and revolutionary seed mixture.

Self-repairing technology
Extremely fast establishment and coverage
Endophyte-enhanced
Excellent drought tolerance

40% SR Perennial Ryegrass
40% SR Tall Fescue
20% Cert. Annual Ryegrass

5 lbs. per
1,000 sq. ft

Thicker Lawn Mixture

Use for overseeding to restore your grass to a dense, healthy lawn. Also to be used for repairing bare spots & thickening existing lawns. Overseed every spring and fall to maintain a thick, sod-like lawn.

15% Kentucky Bluegrass
15% Creeping Red Fescue
35% Certified Perennial Ryegrass
35% Turf-type Perennial Ryegrass


5 lbs. per
1,000 sq. ft

Value Plus Mixture

An all-purpose mixture at an affordable price.

Has a creeping growth habit - new shoots emerge and spread underground
Medium to dark green colour
Tolerates full sun and shade

10% Kentucky Bluegrass
60% Creeping Red Fescue
25% Annual Ryegrass
5% Turf-type Perennial Ryegrass

5 lbs. per
1,000 sq. ft

Turf Genius® Water Saver Mixture

Performs well in low maintenance areas. TWCA Mixture - proven to provide a clear benefit in water conservation.
Excellent drought tolerance.

Deep root system with self-repairing technology

Red

coated seed for even distribution while planting
Works extremely well in dry, sandy, troubled soils
Endophyte-enhanced
100% Certified and 99.9% weed-free seed

30% Cert. Tall Fescue
30% Cert. SR Tall Fescue
20% Cert. Chewings Fescue
20% Cert. SR Perennial Ryegrass

8 lbs. per
1,000 sq. ft

Small Packaged Lawn Seed
Ingredients
Seeding Rate

Seeds for the Cure: Sun & Shade Mixture
Growing Hope One Seed at a Time

Pink seed coated with Water Sense™ technology produces a beautiful, green lawn. A quality product supporting the Canadian Breast Cancer Foundation.

Vibrant pink seed for excellent visibility when seeding
Holds more than 600x its weight in water, improving water efficiency
Improves germination rate and plant survival during drought
Self-repairing technology fills in bare spots naturally

Contains:
Cert. SR Perennial Ryegrass,
Kentucky Bluegrass,
Creeping Red Fescue,
Turf-type Perennial Ryegrass

7 lbs. per 1,000 sq. ft.

1.5 kg. (bundle of 10)

Environmental Turf Mixture

An environmentally-friendly product packaged in a biodegradable and recyclable bag. This mixture reduces mowing frequency, gives you a low maintenance lawn and requires less watering.



Contains:
Certified varieties of Creeping Red Fescue,
Sheeps Fescue,
Hard Fescue,
Chewings Fescue,
Annual Ryegrass.

1.5 kg. (bundle of 10)

Kentucky Bluegrass

A low growing persistant fine-leafed variety species which produces a blue-green colour.

5 lbs. per
1,000 sq. ft

Microclover

A low growing, environmentally friendly clover with tiny micro leaves that produce their own source of natural nitrogen which feeds your lawn constantly.

500 g. per 1,000 sq. ft.

500 g. (bundle of 10)

1 kg. (bundle of 10)

White Clover

Robust, adaptive, drought resistant and somewhat shade tolerant.
Sow in spring or late summer. Produces small flowers. May attract bees.

500 g. per 1,000 sq. ft

Pollinator Mix

Create a floral forage habitat to benefit pollinating species and provide pollinators with a balanced diet throughout the growing season. Made up of 12 different nectar and pollen producing plants. Grows in most soil types and performs in both full sun to partial shade.

Contains:
Alfalfa,
White Clover,
Yellow Blossom Sweet Clover,
Crimson Clover,
Forage Feast Chicory,
Sunflower,
Alsike Clover,
Single Cut Red Clover,
Double Cut Red Clover,
Fodder Rape,
Oriential Mustard,
Daikon Radish

500 g. per 1,000 sq. ft.

500 g. (bundle of 10)

Custom Small Packaging

An ideal option to grow your current product line, extend your brand or use as a promotional tool for your next special event. Our turf specialists will help you select the best varieties to formulate a mixture specific to your needs. Speare Seeds will create a personalized label for your small packaging which includes:

Company name
Company logo
Custom mixture name and ingredients
Seeding rate

Our turf specialists will help you select the best varieties to formulate a mixture specific to your needs.

Available in a variety of sizes, ranging from 500 g. to 5 kg.

40 x 500 g. / bundle
20 x 750 g. / bundle
15 x 1 kg. / bundle 10 x 2 kg. / bundle
5 x 5 kg. / bundle

Speare Seeds Hand Spreader by Earthway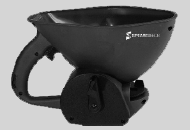 Speare Seeds ergonomic hand spreader works well for small areas or occasional spot spreading. This 110 cubic inch
capacity can also be used in the winter for applying ice melt to sidewalks.
---
Grass Mixtures for Solar Energy Farms
Windmill and solar farms are becoming a growing trend. After the installation of solar modules or windmills, the ground surrounding the area must be repaired. Speare Seeds is proud to offer a low maintenance, low growing grass seed mix intended for use on windmill and solar farms. A blend of slow growing fescues, white clover and a hardy, drought tolerant timothy make this mix ideal for large acre properties and fields. For smaller areas, we can create a mix tailored to your solar project needs that will benefit the environment as well. Please contact us for more information on our successful solar field mixture.
| | |
| --- | --- |
| | Endophyte Enhanced Mixture - A Natural Way of Reducing the Risk of Insect Infestation |
| | Self Repairing Technology |
| | Water Sense™ Colour Coated Seed |
| | Turfgrass Water Conservation Alliance (TWCA) |