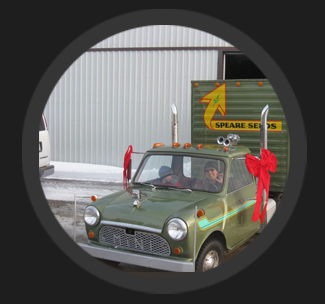 Speare Seeds Limited is a Canadian owned forage and turf seed business based in Harriston, ON, Canada. We take pride in our Canadian heritage and our 50 year history of serving customers across Canada. Speare Seeds Limited is committed to providing quality products to our customers and we aim to deliver solutions that surpass our customers' needs. We offer an extensive variety of forage and turf seeds which allows us to service the needs of several growing markets. We also offer custom blending to accommodate your individual requirements. Our relationships with producers and suppliers in Canada and around the world enable us to provide innovative products for the demands of today's diverse agricultural and farming needsher in demand.
Speare Seeds has been active in the local community for 50 years, sponsoring several local sports teams, organizations and fundraising events. Dick Speare, the founder of Speare Seeds, always believed that you should support the community you live in.
The Speare Seeds Limited mini shown in the picture to the right, was specifically created to participate in parades throughout our community. Children always look forward to seeing it in the parades.
We are 'The Root to Your Success'.

Hours
Monday to Friday
8:00 a.m. - 4:30 p.m.
Speare Seeds Limited
99 John St. North
PO Box 160
Harriston, ON
N0G 1Z0, CANADA
Please use the form below for any general inquiries.
One of our representatives will reply as soon as possible. Thank you!