Delivering High Performance Soil Stabilizers

Hydro-Mulch

Recommended Application Rates

Profile Cellulose

Produced from High Quality 100% Recycled Newsprint

Contaminate - Toxic Free
Provides Superior Erosion Control to Broadcast Straw / Hay Mulch
Ideal for General Seeding Projects
Dark Green Color Provides a Professional Appearance to the Project - Facilitates Metering of Product Application
Available Pre-Mixed with Highly Refined Tackifier
Easily Loaded, Mixed, and Sprayed with Any Type of Hydroseeding Machine
Excellent Product for Hydroseeding and/or Tackifier for Straw / Hay Mulch
Meets or Exceeds all Requirements for Cellulose Fiber Mulch

​

1,700kg./Ha – 2,300kg./Ha

100% Wood

Produced from Thermally Processed 100% Virgin Wood Chips

Contaminate - Toxic Free
Dark Green Color Provides a Professional Appearance to the Project - Facilitates Metering of Product Application
Available Pre-Mixed with Highly Refined Tackifier
Rapid Water Absorption to Form a Homogenous Slurry for Ease of Application and Superior Ground Coverage
Excellent Water Holding Capacity Enhances Turf Establishment

(Also available pre-mixed with Tackifier)

1,700kg./Ha – 2,800kg./Ha

70 / 30 Blend – Wood / Cellulose

Combination of 100% Thermally Refined Wood Fiber and High Quality Cellulose Fiber (70 / 30)

Contaminate - Toxic Free
Available Pre-Mixed with Highly Refined Tackifier
Increased Surface Coverage (as much as 20%) versus 100% Cellulose Fiber
Superior Erosion Control and Turf Establishment Compared to 100% Cellulose Fiber
Easy to Mix and Spray with Standard Hydroseeding Machine

(Also available pre-mixed with Tackifier)

1700kg./Ha – 2300kg./Ha

SB 50 / 50 Blend – Wood / Cellulose

SB 50/50 features a new ratio of Thermally Refined® wood fibers and clean cellulose fibers. It mixes faster with higher loading than traditional wood-based blends and has no paper mache effect. SB 50/50 also contains a premium tackifier for enhanced performance and works as well as traditional mulch blends for vegetation establishment.

2,000-2,500 lb./acre (2,240-2,800 kg./ha) (depending on slope gradiants and conditions)

Seed Aide CoverGrow Spread

Seed Aide® CoverGrow™ is an advanced technology granular mulch made from recycled wood and cellulose fibers. Once applied to a seeded area and activated by water, the granules quickly expand and disperse to provide outstanding protection and water-holding performance right where it's needed—whether you're spot treating smaller bare spots, or hydrospraying larger areas, CoverGrow is the easy and convenient way to establish vegetation.

Compared to Competitive Granular Mulches CoverGrow provides:

Better turf establishment
Better ground coverage for dry and hydroseeding applications
Faster loading and smooth shooting for hydroseeding applications
+25% greater water holding capacity
+25% greater swell volume
+25% faster water absorption
Better soil bonding to prevent movement during rain or irrigation with included tackifier

1,500-3,000 lb./acre (1,680-3,360 kg./ha) (depending on slope gradiants and conditions)

Bonded Fiber Matrix (BFM)

Hydraulically applied erosion control blanket composed of Thermally Processed Wood Fibers and Proprietary Blend of Tackifiers. Forms a strong, durable bond with the soil surface, providing excellent erosion control performance on the most critical slopes (up to 1:1) for up to 12 Months.

Safe and Easy Hydraulically applied erosion control technology for critical / steep slopes compared to erosion control blankets.
No additional tackifiers or other additives are required.
Mix and apply BFM with an approved hydro seeding machine, utilizing a fan-type nozzle (50-degree tip).
Cures to form a matrix that bonds intimately with the soil surface to more effectively prevent erosion on critical / steep slopes.
Saves Time and Money - Installs faster and less expensively versus rolled erosion control blankets or sod.
Eliminates the need for staples or stakes.
Eliminates potential problems for "tenting" and "under-riling".
No Special Site Preparation Required - Enabling Contractor to Install on Irregular Terrains.
Increased water- holding capacity enhances seed germination and superior turf establishment.
Environmentally Safe and Totally Biodegradable.
Independent Test Results Show an Erosion Control Effectiveness of 99.9% (C Factor of .0001)

3400kg./Ha – 5000kg./Ha
(depending on slope gradiants and conditions)

Fiber Reinforced Matrix (FRM)

Fiber Reinforced Matrix is a fully biodegradable, Fiber Reinforced Matrix (FRM) composed of 100% recycled and Thermally Refined™ wood fibers, crimped interlocking biodegradable fibers, naturally derived cross-linked biopolymers and water absorbents. The FRM is phytosanitized, free from weed seeds, free from plastic netting, requires no curing period and upon application forms an intimate bond with the soil surface to create a continuous, porous, absorbent and flexible erosion resistant blanket that allows for rapid germination and accelerated plant growth.

Recommended Applications:

Erosion control for slopes ranging from mild to severe (≤0.25H:1V)
Rough graded slopes
Superior performance over rolled erosion control blankets
Enhancement of vegetation establishment

3400kg./Ha – 5000kg./Ha
(depending on slope gradiants and conditions)

Flexterra® HP-FGM®

Flexterra® High Performance-Flexible Growth Medium® (HP-FGM®) is the pinnacle of the erosion control industry. Fine grading and extensive soil preparation are unnecessary, allowing you to apply the product for immediate protection and superior performance at reduced overall costs.

SETTING THE BAR EVEN HIGHER, Flexterra HP-FGM Delivers:

Better Erosion Control - Flexterra® HP-FGM® immediately bonds to the soil surface. Its flexible yet stable matrix retains > 99% of soil, vastly reducing turbidity of runoff for up to 18 months.

Greater Seed Germination and Growth - Flexterra HP-FGM delivers the highest growth establishment in the market, due to a combination of optimized water and nutrient retention.

Safer for the Environment - Unlike rolled erosion control blankets, Flexterra HP-FGM has no nets or threads to endanger wildlife. It uses 100% biodegradable crimped interlocking fibers and 100% recycled and phyto-sanitized wood fibers. Flexterra HP-FGM is 100% safe in even the most sensitive environments.

Earth-Friendly and Sustainable Results - Flexterra HP-FGM is a result of Profile's Green Design Engineering™, creating cost-effective and environmentally superior solutions through the design, manufacture and application of sustainable erosion control and vegetation establishment technologies.

Floc Loc Tackifier

FlocLoc improves sediment control. A polyacrylamide (PAM) flocculating soil stabilizer, FlocLoc™ coagulates soil particles suspended in water, dropping them from runoff. FlocLoc can be used for temporary erosion and dust control. Just one 3-lb (1.4 kg) jug will provide temporary stabilization to 1 acre of exposed soil!

Increases shooting distance of the hydraulic mulch slurry due to slickifier
Improves water infiltration into the seedbed
Increases water-holding capacity of hydroseeding slurry
Enhances suspension of seeds and fertilizer

3 lb./acre

ProGanics Biotic Soil Media (BSM)

Soils and substrates associated with denuded sites from construction, mining, energy development and other land disturbing activities are inherently lacking in organic matter, nutrients and biological activity essential to sustainable vegetative establishment. Ideally these sites would be covered with several inches (centimeters) of rich fertile topsoil to help develop a reasonable growing medium. However, there is simply not enough suitable or reasonably priced topsoil to ameliorate inhospitable conditions on every site.

ProGanics™ Biotic Soil Media™ (BSM™) has been designed as a topsoil alternative that accelerates the development of depleted soils/substrates with low organic matter, low nutrient levels and limited biological activity. ProGanics is not a direct replacement for expensive topsoil, but provides an abundant source of organic matter and soil building components to quickly modify soil chemistry, initiate growth establishment and buildup of the uppermost "O" and "A" soil horizons.

Unlike peat harvested from fragile wetlands, all components of the ProGanics Biotic Soil Media blend are naturally derived and renewable, and engineered to optimize moisture retention, growth and establishment of vegetation.

ProGanics saves time and money where the cost of topsoil is prohibitive
ProGanics can be used on challenging sites with difficult access and on steep slopes where topsoil placement is impractical
ProGanics is an excellent option when soils are too wet or frozen to dig, transport and spread
Quick and easy loading
Engineered to shoot smoothly for optimum performance

3,500-5,000 lb./acre (3,900-5,600 kg./ha) (depending on slope gradiants and conditions)

ProMatrix Engineered Fiber Matrix (EFM)

ProMatrix with patented Engineered Fiber Matrix™ (EFM™) technology was created to give you an edge when bidding on jobs requiring BFM/SMM hydraulic products. ProMatrix delivers the erosion control and vegetative establishment you expect from Profile Products.

ProMatrix EFM delivers superior performance and sustainable results, in an easy-to-apply, and cost effective solution:

Highest-loading formulation with BFM performance; 60 pounds per 100 gallons of water
Speeds application; proprietary Dispersion Granules facilitate even distribution of the fibers and chemistry to ensure smooth slurry pumping and shooting
Class-leading erosion control effectiveness; meets or exceeds all industry testing standards for BFM/SMM products
Lasting performance with a Functional Longevity of up to 12 months
Quick germination and rapid vegetative establishment
Environmentally safe; it's non-toxic, contains 100% recycled wood fibers and is 100% biodegradable

2,500-4,000 lb./acre (2,800-4,480 kg./ha) (depending on slope gradiants and conditions)
Blankets and Tackifiers available upon request.
*For other Hydroseeding products, please call our office and speak to one of our turf professionals.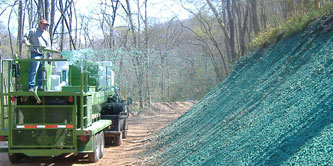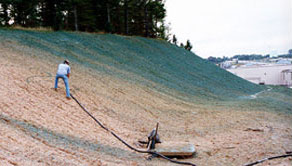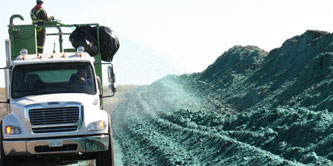 TOPCOAT Daily Landfill Cover - Fire. Odor. Regulations. We've got them all covered.
TOPCOAT is a non-toxic and biodegradable daily landfill cover manufactured from virgin wood fiber and / or recycled paper, a proprietary binding agent and other performance-enhancing proprietary ingredients. It's the least expensive way to meet daily landfill cover regulations.
In addition to meeting regulations, it's easy to use, with a one-bag system that lets you use regular hydroseeding equipment. It's fast - there's no mixing time and there's no waiting to spray. It's effective, forming a blanket that controls disease vectors, fire, odour and more as soon as it's applied.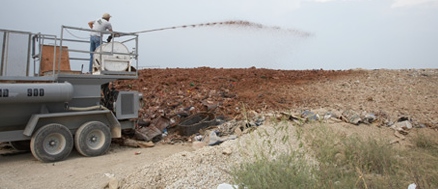 BENEFITS:
More cost-effective than digging or hauling in dirt
Saves space and extends the life of a landfill - 1/4 inch of Topcoat vs. 6 inches of dirt
Non-toxic and biodegradable
Prevents blowing litter
Reduces odour omissions
Controls birds and other scavengers
Protection from fires, diesase vectors, erosion and more