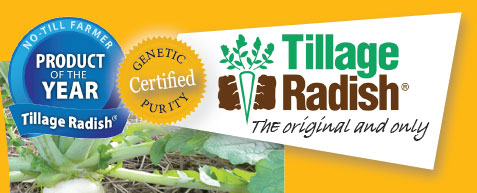 With over 10 years of research, Tillage Radish® is an example of a high quality product with superior genetics. Please refer to the newest Resource Guide filled with all kinds of information including planting tips, yields, research and pictures.
The Only Cover Crop Radish Proven to Increase Yields
Sometimes referred to by cheap imitators, Tillage Radish® is the only cover crop radish proven to boost crop yields while delivering other measurable soil benefits while avoiding many problems traditionally associated with cover crops.
Tillage Radish® may be the single most beneficial cover crop ever developed.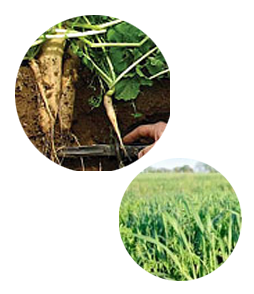 Over 10 years of university research and on-farm testing prove the remarkable facts. When Tillage Radish® is used as a cover crop ahead of cash crops, the following results have been recorded and reported.
The cover crop radish that pays you back!
Corn yields are up 11%.
Soybean yields are up 10%.
Winter wheat yields are up from 5 to 12 bushels per acre*
* Depending on conditions and when planted with winter wheat
It's the taproot!
The superior genetics behind this amazingly aggressive brassica taproot are found only in the Tillage Radish®. No other cover crop radish has a taproot that drills through compaction like it's not even there.
In fact, that's how this amazing cover crop got its name. It drills down where steel cannot reach, it tills the soil naturally and better than any tillage equipment possibly can.
Easy to plant, reaching full growth within 30 days
Taproot typically reaches over 30" – deeper depending on soil and planting conditions
Drills through soil compaction that stops other cover crops cold
Soaks up N, P, Ca and other key soil nutrients
Winter kills when temperatures reach mid teens for a couple nights
Rapid spring decay results in massive soil voids for air and water movement
Spring soil warms up and dries quickly for better planting conditions
Improves drainage and air movement
Helps suppress nematodes
Attracts earthworms like a magnet
Shades out winter annual weeds with dense foliage cover
Plant-available N released during radish decay
N, P, Ca available when new plant seeds need it most
Please view the following Tillage Radish® brochure to read Canadian testimonials and the many success stories.
Beware of Cheap Imitators!
If the product does not come in the Cover Crop Solutions 50 lbs. bag seen here, it is not Tillage Radish!
The only problem is: There is nothing else that compares with Tillage Radish when it comes to the yield increases, the genetics, the research and the years of farm-tested reliability you get with every bag of Tillage Radish.
Tillage Radish is what you want!
Cover Crop Radishes Are NOT All The Same
After more than a decade of research and development, Tillage Radish® has been awarded PVP pending status and is now recognized as a unique radish variety. This means the Tillage Radish® genetic profile is different from any other cover crop radish in the world. This also means no unauthorized propagation is allowed, so that farmers know exactly what they are getting inside of every bag of Tillage Radish® seed.
Tillage Radish® Planting Tips
You will have success with Tillage Radish seed wherever agricultural crops are grown (pH range 5.5-7.5).
For best results, plant cover crop radish seed in late summer to early fall, at least 3 weeks before the average first killing frost date.
Tillage Radish seed will germinate rapidly and typically start appearing within days. If using a burndown herbicide to clean up existing weeds, wait no longer than 2 days after planting Tillage Radish seed.
Tillage Radish begins to winterkill when temperatures fall to the mid-teens for 2 or 3 nights, similar to fall-planted spring oats.
In most areas, Tillage Radish will decompose in time for spring planting, preparing the field for planting conditions and enhancing the availability of nutrients already in your soil.
If Tillage Radish does not winterkill, apply a combination of 1 pint 2,4-D type herbicide along with 1 quart glyphosate when first flowers appear.
Fertilizer input needs are significantly reduced; available leftover (N) has been held and herbicide is reduced due to Tillage Radish suppression of winter annuals.
IMPORTANT: If Tillage Radish seed is planted very early as a cover crop, flowering can develop before they are winterkilled. This can be controlled with mowing or burndown with the active ingredient Glyphosate or 2,4-D equivalent at flowering.
Planting Depth - 1/4 to 1/2 inch deep but can plant 1" to moisture if necessary
NITROGEN: In order to grow to their fullest potential they will need 40-60 lbs of (N) – accumulated or residual. Most fields have enough (N) left over from the previous crop. Upon decomposition in the spring, Tillage Radish will give (N) back in time to utilize in the spring crop.
Applying manure or chicken litter is preferred before planting but can be done just prior to emergence. Liquid manure can only be spread after plant leaves are 4" in size. The practice may cause some burning of the leaves and will have plant damage along tire tracks.
The Tillage Radish tuber will take up to 150 lbs/acre of (N) from the manure, so it is a great benefit to store nutrients when there is a need to spread manure after planting.
Seeding Rates for Tillage Radish Planted Alone
Precision Planter - 4 lbs/acre
15" rows using 60-cell small milo or small sugar beet plates with 4" in-row spacing
Seed is selected for Precision Planting performance
Drill Seeder - 6 lbs/acre
Using small grass box, use alfalfa setting as a guide to set seeding rate. A large seed box can be used but the setting is very low and somewhat difficult to establish. Plant a few rounds with a known amount of seed to determine correct seeding rate
Broadcasting/Aerial Seeding - 8 lbs/acre
Strive for good soil and moisture contact
Corn seeding indicator is when 1" patches of sunlight on soil surface are seen or approximately 4 weeks prior to anticipated harvest time
Soybean seeding indicator is at leaf yellowing
Cotton seeding indicator is right before defoliation
Improve success rate by using drop tubes when seeding with a high clearance cover crop seeder
Tillage Radish® Blending Tips
Tillage Radish Mixed With One or More Cover Crop Species
Using Precision Planter with other cover crop species in alternating 15" rows: 2-3 lbs/acre Tillage Radish seed
With a drill - with one other cover crop species: 4 lbs/acre, or with two other cover crop species: 2 lbs/acre Tillage Radish seed
Cover Crop Blending Options – Best Suited For These Applications
When blending Tillage Radish with grains cut Tillage Radish seed rate to 4 lbs/acre and cut the grains rate by 25% of your normal seed rate, eg. If your normal grain seed rate is 1 bu/acre, cut it to ¾ bu/acre, etc. Same rule applies with planting Tillage Radish seed with Sorgam-Sudan grass.
Erosion control areas and/or Fall/Spring grazing
Tillage Radish seed 4 lbs/acre with Small Grains - ¾ -1 lb/acre
Tillage Radish seed 4 lbs/acre with Annual Ryegrass - 12 lbs/acre
Breakup compaction, Fall Grazing, add & store (N)
Tillage Radish seed 3 lbs/acre with Hairy Vetch - 20 lbs/acre
Tillage Radish seed 4 lbs/acre with Crimson Clover - 10 lbs/acre
Tillage Radish seed 4 lbs/acre with Austrian Winter Peas - 30 lbs/acre
Tillage Radish seed 4 lbs/acre with Sunn Hemp - 10 lbs/acre
(For Sunn Hemp, at least 8 weeks before first killing frost)
Tillage Radish® Grazing Tips
Always mix a grass species with Tillage Radish seed planted at 4 lbs/acre
Provides a high protein diet into early winter
Allow the cattle to only graze off the top one-third in order for adequate re-growth
Planting Tips For Established Pastures

Tillage Radish seed needs a chance to get started in pastures, it is ideal to have the grass grazed low or cut low with adequate moisture prior to planting.
Have the soil (N) content at least between 40-60 lbs. Seeding rate is 4 lbs/acre drilled. Broadcasting will only work if there is adequate seed to soil contact - use 6 lbs/acre.
The cover crop radish is very digestible and provides many nutrients. Having other species established provides a balanced diet.
Tillage Radish seed 4 lbs/acre when direct drilling into pastureland
Tillage Radish seed 6 lbs/acre when broadcast seeding into pastureland
Follow soil test recommendations
Nitrogen available between 40-60 lbs
Allow 3-4 weeks before grazing
Re-graze approximately on a monthly interval
Graze no lower than 4" if you desire multiple grazing
For best palatability, graze before it flowers
Here's everything you need to know for successful planting of our cover crop seed products, including seeding rates and blending tips.
Click here to review and/or print this handout on planting tips.
Tillage Root Max
The new TillageMax Blends is a line of high performance cover crop and forage blends. Each blend delivers the benefits of Tillage Radish® with the superior characteristics of Tillage RootMax™ Deep Root Annual Ryegrass, CCS Crimson Clover and CCS Oats.
Please click here for more information on Tillage RootMax™ and TillageMax Blends.